Sabrina Madaro - Biografia
Sabrina Madaro è un'artista autodidatta nata a Torino il 23 febbraio 1979.
Inizia ancora bimbetta la sua personale ribellione colorata, distribuendo energicamente acquerelli iridescenti e diffondendo spruzzi di colore scarabocchiati a pennarello, guerriglieri colorati che si insinuano minacciosi e silenziosi in ogni angolo a portata di occhietti e manine.
Nonostante difficoltà ed opposizioni, negli anni a venire non sarà in nessun modo possibile arginare la folla danzante di donne curiose ed occhiute spennellate e ripennellate su ogni superficie né annientare i riccioli multicolore sparati come proiettili filanti e aggrappati ad uncino alle sue tele.
Gli sguardi scomposti ed inquietanti dei primi dipinti lasciano spazio con la maturità a donne sempre più seducenti, donne che hanno il profumo delle donne delle grandi città, che camminano a passo spedito ed il cui abito più pesante è lo sguardo che indossano.
Gli occhi delle donne di Sabrina Madaro percorrono tragitti rumorosi sfiorando oggetti e persone fino a posarsi improvvisi e veloci come la prima goccia di pioggia che batte su un vetro.
Principalmente ritrattista, "visagista" e "nudista" Sabrina Madaro è all'occorrenza "commissionista" di quello che più vi aggrada, vi emoziona e vi consola e disponibile a corsi di cazzeggio spensierato per bambini e adulti con le dita sempre sporche di colore.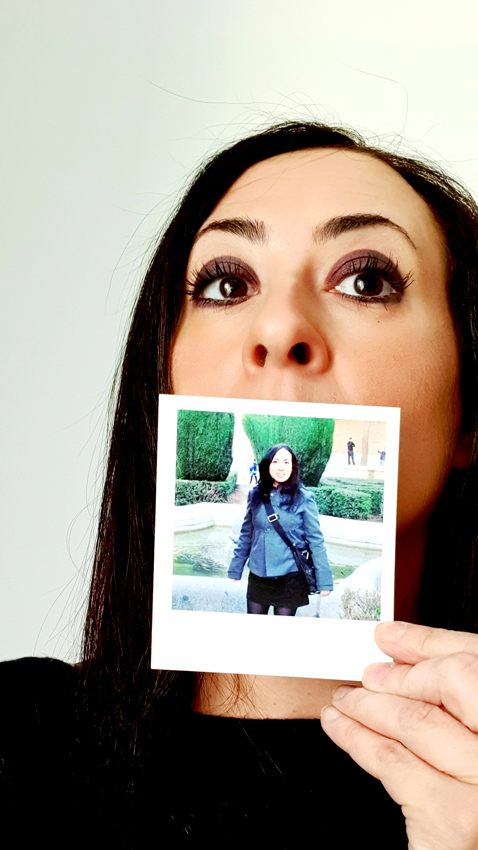 Sabrina Madaro is a self-taught artist born in grey Turin on the 23rd February 1979
She began her personal colour rebellion as a child, with iridescent watercolours and
splashes of colour scribbled with felt tip pens - coloured guerrillas which stealthily settle in and silently threaten from any place within reach of young eyes and hands.
Despite hardships and opposition, in the years to come there was no way to hold back her dancing throng of wide-eyed women curious about the onlooker, painted and repainted on every surface, nor the multicoloured curls reminiscent of shooting stars hooked onto her canvases.
The disordered and unsettling gazes of the early paintings gave way to ever more seductive women with the scent of big-city women power walking, whose look is their heaviest piece of clothing. The eyes of Sabrina Madaro's women take in the chaotic surroundings, brushing against people and objects before settling suddenly and rapidly like the first drop of rain on a window-pane.
Principally a painter of portraits, faces and 'nudes', Sabrina is also open to 'commissions' of whatever most pleases, excites or consoles you, and willing to set up courses of carefree messing around for children and adults with colour-stained fingers.
Sabrina Madaro is mainly a portraitist, "visagist" and a "nudist" but when necessary she become a "commissioner" of whatever pleases, excites and consoles you. She is available to light-hearted courses for children and adults with fingers always dirt with color like hers.
---